A bedroom with a window behind the bed can be a bold design choice. But the impact it creates is undeniable. Whether you're looking to make a dramatic statement or just want to maximize natural light in your bedroom. Having a window behind the bed is an eye-catching option worth considering. In this article, we'll explore how you can use this feature as part of your bedroom design and provide you with ideas for making it look its best.
1. When Decorating with a Bed in Front of a Window
When decorating with a bed in front of a window. It's important to consider how much light can enter the room. Using curtains or shades to control how much light enters will help reduce glare on TV screens and create privacy from outside viewers. Additionally, incorporating furniture that adds visual interest such as nightstands, bookshelves, or dressers will draw attention away from the window and towards other elements in the room. Lastly, adding wall art or mirrors over the headboard will give depth to the room and make it feel larger than it actually is.
2. Modern Bed in Front of Window
Place your bed in front of the window with neutral bedding. Whether you're working within a limited space or looking for ways to make the most of your natural light. This bedroom idea is both stylish and practical. Not only will it provide an aesthetically pleasing view when waking up in the morning. But it will also give the room an airy and open feel.
To achieve this look, be sure to choose light-colored bedding such as white or gray sheets. Opt for minimalistic pieces that won't distract from the view or overwhelm the space. Add a few decor pieces like throw pillows and wall art so that you can create a cohesive look without taking away from the view out of your window.
3. Window with Curtains Ideas
modern bed in front of a window can be a great way to take advantage of the natural light and views while adding extra style to your room. Not only will it open up the space but it also provides functional seating area. With the right curtains, you can create an inviting atmosphere that is peaceful and tranquil.
For those who are trying to create an elegant look in their bedroom, hanging floor-length curtains on either side of the window adds softness and sophistication. It is important to get the correct measurements so that the curtains hang properly over both sides of the bed. To complete this look, choose neutral colors such as ivory or white for a timeless classic vibe or go bold with bright colors like green or blue for a modern twist.
4. Modern Metal Bed with Nightstand
The nightstand in front of the window creates an interesting contrast between the contemporary materials and the traditional use of wood or veneer. When combined with curtains, you can choose from many design options that will fit perfectly into any interior style. Not only does this setup provide ample storage space. But it also helps maximize natural lighting during daytime hours and provides plenty of privacy at night.

For those who are looking for something truly special. Try adding a hanging planter or decorative wall art above the bed to complete the look!
5. Windows with Beige Curtains
This look adds a touch of glamour while keeping things light and airy. Not only does this style add visual interest to your space. But it also makes use of all the natural light that comes through windows. Plus, beige curtains are sure to match any other accessories or furniture you have in your bedroom.
When decorating your bedroom with this look, make sure the bed frame is simple and sleek. Choose materials like solid wood or metal to create an elegant yet minimalistic feel for your room. You can also opt for more luxurious fabrics such as velvet or silk if you want something more extravagant. Bedroom ideas with the window behind the bed.
6. Luxurious Effect
Here are some trendy modern bed in front of window ideas:
For starters, consider purchasing a tall upholstered headboard with velvet or suede accents. This gives the area a luxurious effect without blocking out too much natural light from entering through the window. If your room has views that you would like to take advantage of, think about using sheer curtains and vertical blinds instead of heavy drapes which can block out too much sunlight.
7. Upholstered Modern Bed
The bedroom is the most important area of any home – it's the place to sleep, relax, and recharge. A modern upholstered bed in front of a window or patio door can be an amazing design feature that will give your room an instant upgrade. Not only that, but you'll also get to enjoy natural light and views while you sleep! If you're wondering how to make this look work in your space. Then read on for some bedroom ideas with windows behind the bed.
To create a modern look with this setup, choose a bed frame with clean lines and minimal detail. Have it upholstered in one solid color or use patterned fabric to add texture and interest to the room. Bedroom ideas with window behind bed.
8. Blue and White Modern Bed
Looking for bedroom ideas with a window behind your bed? Look no further! This modern blue and white bed in front of a window adds a stylish touch to any room. Perfect for watching the sunrise or sunset. This bright and airy style is sure to give your sleep sanctuary an upgrade. The combination of blue and white offers a subtle yet vibrant contrast that will instantly draw eyes to your favorite space. Not only does it help create visual appeal, but it also provides enough storage options to help keep you organized. With this beautiful piece as the centerpiece of your master retreat. You'll be counting down the minutes until it's time for bed!
9. White Modern Bed
Adding windows to a bedroom allows natural light to enter the room, creating a bright and inviting atmosphere. This can make the space feel larger and more open. For those looking for a contemporary style, placing a white modern bed in front of one of these windows is an ideal way to make the most out of this design element.
When choosing which window to place behind your bed. Consider factors such as its size and placement in relation to other elements in the room. It's also important to think about how much light you'd like to enter through it. If you're looking for an abundance of natural lighting or privacy curtains is recommended depending on your preference. Additionally, consider opting for matching furniture pieces such as nightstands or dressers that will further enhance your bedroom's modern look and provide additional storage space.
10. Chunky Plaid Curtains
These curtains provide the perfect combination of texture and color that can completely transform any room. Not only do they look great when hung behind a bed. But they also add warmth and coziness that is essential for creating a cozy and inviting atmosphere in the bedroom.
These curtains come in various sizes, colors, and textures to suit any aesthetic. You can choose from traditional red and black buffalo check designs to bolder modern prints with bright colors like turquoise or yellow. The thickness of the fabric ensures full coverage of your windows while still allowing natural light to filter through – perfect if you have a window behind your bed.
11. Modern Floral Wallpaper
This look will instantly transform any room into a stunning and inviting retreat. Floral wallpaper adds color, pattern, and texture to the space while still remaining subtle enough not to overpower the room. By keeping the furniture simple and minimalistic, you'll allow the bold pattern of your wallpaper to be the center of attention in your bedroom design. Adding some accent pieces such as throw pillows or curtains with coordinating colors will help complete this sophisticated look. Enjoy an added pop of color that will bring life and energy into any space with a modern floral wallpaper accent wall!
12. Window with Sheer Curtains
Installing a modern bed in front of a window and pairing it with sheer curtains is an easy way to add an element of glamour to your bedroom. Not only does this design create a cozy atmosphere, but it can also make any room appear bigger and brighter.

Adding sheer curtains to the window behind the bed will give your space a feeling of airiness and sophistication. The fabric creates movement as light filters through while providing privacy from the outside world. Positioning the headboard close to the window makes sure that all details of your room are visible even when upholstered furniture blocks sightlines elsewhere.
13. Farmhouse Bedroom Idea
This style of door is perfect for any rustic-inspired interior and adds an extra layer of visual interest to any room. It also serves as a functional space-saver since it takes up less room than traditional hinged doors. Not only does it provide privacy and sound insulation. It also gives you the freedom to open and close your bedroom without having to move furniture or other objects out of the way.
Creating a farmhouse bedroom with a sliding barn door is incredibly simple yet incredibly effective. Start by choosing one that fits both the size and style of your room. There are many different sizes, designs, colors, and finishes available so you'll be able to find something that really speaks to your personal design aesthetic.
14. Neutral Master Bedroom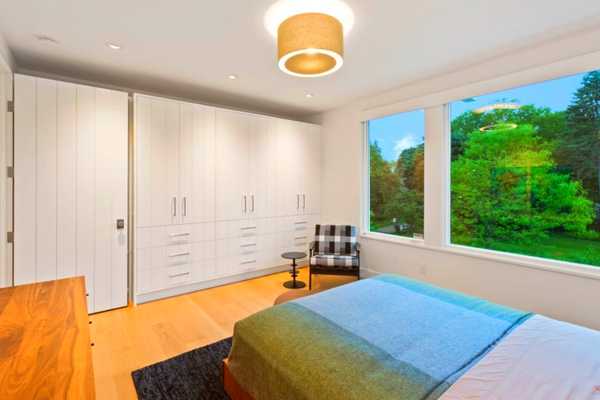 The trick is to choose furnishings and accessories that are neutral-colored so as not to obstruct any views from the window. Here are a few ideas to get you started with your bedroom ideas with window behind bed.
Begin by choosing drapes or blinds that won't detract from the view outside as well as colors that will blend nicely into your décor. When selecting a bed frame, opt for one constructed out of metal or wood and then cover it with neutral tones such as beige or white.
15. Modern Bed with White Bedding
Modern bed with white bedding placed directly in front of an open window creates a crisp and inviting atmosphere.
No matter the size of your bedroom, this clever placement strategy will make the space feel larger while creating a peaceful place to relax. To create that perfect look, choose neutral tones like whites or pastels for your bedding and curtains. If you're feeling bold, you can even incorporate pops of vibrant color for some extra energy! By using this trick you'll be able to enjoy nature from the comfort of your own home – without having to leave your cozy bedroom!
16. A Wood Night Table
A wood night table that's placed against a window behind your bed will provide an attractive focal point and an inviting place to relax.
You don't have to sacrifice style over function when decorating your bedroom. A wood night table with drawers or shelves can be used for storage space while also adding warmth and texture to the room's aesthetic. Look for furniture pieces crafted from sustainable materials like reclaimed wood, bamboo, or even driftwood to keep things eco-friendly. The natural colors of these materials will bring out the best of your neutral palette while still creating a sense of calm within your space.
17. Blue and Gray Modern Bed
Featuring an eye-catching blend of blue and gray tones. This bed is sure to make any room stand out in style. Not only that, but with its unique window placement behind the bed. You can enjoy natural light streaming through while you relax in your own personal oasis.
Adding this piece to your bedroom will not only give you a place to rest your head at night but also provide style. Comfort and function all wrapped up into one stylish package. With plenty of storage space below for additional linens or pillows. This bed offers practical features as well as aesthetic beauty.
18. Beveled Mirrors over Wood Nightstands
They also create a light-filled atmosphere when placed behind a bed that has a window. This type of layout is perfect for those who like the idea of natural lighting but want to add some extra pizzazz to their space.
The beveled mirrors in this setup can come in either framed or unframed styles, depending on your preference and budget. The nightstands should have enough room for small objects like reading material, books, or alarm clocks; plus drawers that can store more items such as jewelry boxes or secret notes! Bedroom ideas with window behind bed.
19. Floral Wallpaper with Modern Bed
Start by making sure to position your bed in front of the window. So that it's not blocked off by furniture or other items in the room. Matching floral wallpaper will bring life and energy to the walls while still allowing sunlight to flood through. Create depth by hanging curtains on either side of the window and adding small touches like throw pillows or accent pieces around both the bed and window area. Finish off with a rug underneath and soft lighting to complete your look!

With these tips, you can easily transform any room into an inviting setting full of color and light. Bedroom ideas with window behind bed.
Final Thought
Decorating a bedroom with a window behind the bed can be an exciting and creative way to create a calming and inviting space. Through the thoughtful use of color, texture, and accessories, this type of design can be both visually pleasing and practical. Color can be used to draw attention away from the window or to accentuate it, depending on your objectives. Similarly, window treatments like curtains can also provide an added layer of privacy and comfort.